-Lurid Crime Tales-
7 Shot in WI Mall
this has the stench of PC all over it. They know his name (but won't release it), his ethnicity, everything, but we are too immature to handle that info, apparently


A gunman dressed in military fatigues has launched a shooting spree at a suburban Milwaukee spa and he is thought to have been targeting his estranged wife who had a court order of protection against him.

Initial reports said that seven people were shot at a day spa in Brookfield, Wisconsin on Sunday afternoon and the suspect is still on the loose.

During the investigation, police found an Improvised explosive device on the scene, prompting them to issue a call for extreme caution.

The gunman was reportedly seen fleeing the scene in a 2003 black Mazda. He was described as a bald ethnic man with darker skin, about 6 foot one inch tall and 270 pounds.


Posted by: Frank G || 10/21/2012 14:56 || Comments || Link || E-Mail|| [6500 views] Top|| File under:
Trollhaven agrees to turn hard drives over to creditors
Las Vegas copyright activist Righthaven LLC appears eager to comply with the latest court order entered against it Tuesday, as noncompliance could cost its CEO a fine of $500 per day.

U.S. Magistrate Judge Peggy Leen in Las Vegas, ruling during a hearing, gave Righthaven two weeks to surrender the drives or mirror images of them and said noncompliance would result in a daily sanction of $500 against the company and its CEO.

Tuesday's action was the latest proceeding in a yearlong effort by the creditor, former federal prosecutor Thomas DiBiase, to recover $119,488 in legal fees he was awarded after he beat back the Righthaven suit against him. All told, Righthaven owes DiBiase and other creditors $318,000 for legal fees after Righthaven failed with its copyright lawsuits against them.

"After Righthaven claimed to be out of funds, it nevertheless continued to pay [Righthaven's attorney]Mr. Mangano for several months and in April it hired a new attorney in a different case (in the appeals court). It seems to have funds when it wants to have funds," Kurt Opsahl, a plaintiffs attorney said. "We've had nothing but obstruction and delay.''
Posted by: Anguper Hupomosing9418 || 10/21/2012 12:10 || Comments || Link || E-Mail|| [6501 views] Top|| File under:
2 dead, at least 7 injured in city shootings
Two young men were killed while at least seven other people including a 15-year-old boy were

maimed

during shootings Friday and Saturday across the city.

Early Saturday in the Rogers Park neighborhood, a 34-year-old man was walking on a sidewalk in the 6900 block of North Ashland Avenue about 2:30 a.m. when someone inside a red sport-utility vehicle fired shots and hit him in the abdomen, according to Police News Affairs Officer Amina Greer.

He was taken to Saint Francis Hospital and his condition was not known.

No one has been placed in durance vile
... anything you say can and will be used against you, whether you say it or not...
for the shooting, Greer said.

Also early Saturday but in the Little Village neighborhood, a 24-year-old man was shot.

He was on a bicycle at the intersection of 24th Street and Millard Avenue, when a car pulled up and someone inside shot him about 12:10 a.m., according to police.

Friends who were nearby took him to Mount Sinai Hospital. His condition was not known, police said.

On the city's West Side about 11:15 p.m. Friday, a 30-year-old man was shot in the in the face, shoulder and buttocks in the 900 block of North Cicero Avenue, according to preliminary information from police.

He was taken to John H. Stroger Jr. Hospital of Cook County where his condition has stabilized as of late Friday, police said.

Earlier on the Far South Side, someone shot the 15-year-old boy three times in the abdomen in the 11400 block of South Perry Avenue about 7:30 p.m. Friday, said Police News Affairs Officer Laura Kubiak.

Posted by: Fred || 10/21/2012 00:00 || Comments || Link || E-Mail|| [6478 views] Top|| File under:
Detroit ranked most dangerous city in the country fourth year in a row
Detroit was once the industrial capital of the nation. But, decades of economic decline and a ruinous recession have turned the Motor City into America's crime capital. For the fourth years in a row, Forbes.com has rated Detroit, Michigan, as the most dangerous city in the country -- with a violent crime rate of 2,137 per 100,000 residents. Many of the other places on the list are also declining industrial powerhouse cities that have been left ravaged by dwindling blue-collar jobs and rising unemployment.


Y'all just keep voting Democrat, though...
Posted by: Fred || 10/21/2012 00:00 || Comments || Link || E-Mail|| [6471 views] Top|| File under:
Bosnian Scrap Metal Thief Steals Iron Bridge
[An Nahar] A Bosnian scrap metal dealer raised his sights from stealing and illegally selling metal drain covers and made off with an entire iron bridge, local police in the northeast of the country said Friday.

"A few hours after we were informed about this most unusual crime we cooled for a few years
Please don't kill me!
a suspect, a man of 29, at his home," Mile Jurosevic of the police in Brcko in northeast Bosnia said.

"We also found in the courtyard in front of his house the metal structure of the bridge, cut in two to make it easier to transport."

He said that the bridge, which is 12 meters (40 feet) long and weighs several tonnes, was stolen on Wednesday night at Dizdarusa, a suburb of Brcko.

"The metal structure was unscrewed from its base and dragged several meters (yards) to the nearest road" before being loaded on to a truck, he said.

The bridge was in a farming area through which a small river runs and was regularly used by several families to reach their fields, Zejneba Pasalic, a locausl woman, told the press.

Posted by: Fred || 10/21/2012 00:00 || Comments || Link || E-Mail|| [6469 views] Top|| File under:
-Obits-
RIP George McGovern
Today I shall forget his politics, and instead remember a man who flew 35 missions over Germany (with a DFC), and a man who was devoted husband, father, and grandfather.


George McGovern, the 1972 Democratic presidential nominee, has died after a short stay in a Sioux Falls, South Dakota Hospice, after what his family termed a "combination of medical conditions."

He was 90 years old.
A 22-year veteran of the House and Senate from South Dakota, McGovern was one of the most storied American politicians of the 20th century. McGovern was best known for his outspoken opposition to the Vietnam War and advocacy for agricultural and world hunger issues.

McGovern lost the 1972 presidential election to the incumbent President Richard Nixon in one of the biggest landslides in American history, winning only Massachusetts and the District of Columbia.

McGovern, a former World War II bomber pilot, was one of the most prominent "doves" of his time. He flew 35 combat missions over Nazi-occupied Europe and earned the Distinguished Flying Cross for leading an emergency landing of a damaged plane that saved his crew.

He first won election to Congress in 1956. His longtime advocacy on the behalf of farmers and the poor began with his service on the House Agriculture Committee. The panel's longtime chairman, Rep. Harold Cooley (D-NC), said, "I cannot recall a single member of Congress who has fought more vigorously or intelligently for American farmers than Congressman McGovern."

After two terms in the House of Representatives, McGovern made his first bid for the Senate during the 1960 election to unseat the incumbent Sen. Karl Mundt (R-SD). He ultimately lost by more than 15,000 votes. But the newly elected president, John F. Kennedy, offered McGovern a position in his administration as the first director of the Food for Peace Program, which oversaw food donations to developing countries.

Two years later, McGovern launched a second campaign for South Dakota's other Senate seat held by Sen. Francis Case (R-SD). But Case died in June 1962, and McGovern ultimately ran against the appointed senator, Lieutenant Gov. Joseph Bottum. McGovern won by less than 1,000 votes.

In 1968, McGovern briefly ran for the Democratic presidential nomination after the assassination of Sen. Robert F. Kennedy (D-NY). Some of Kennedy's aides urged McGovern to run because of their opposition to the remaining frontrunners, Eugene McCarthy and Hubert Humphrey. McGovern was initially reluctant to join the race due to concerns about his own Senate reelection prospects and that Robert Kennedy's brother Ted would run. But McGovern announced his candidacy two weeks ahead of the 1968 Democratic National Convention. He declared that he was running for "the goals for which Robert Kennedy gave his life."

Chaos reigned at the convention as Democrats found themselves deeply split. While Humphrey appeared to have the most delegates, many who had originally been pledged to Kennedy rallied around McGovern. McGovern ultimately endorsed Humphrey at the convention and returned full-time to his Senate reelection efforts.

In response to the tumultuous convention and their resounding losses, McGovern co-chaired the McGovern-Fraser Commission with Rep. Donald Fraser (D-MN) to reform the party's presidential delegate selection procedures.

Upon his return to the Senate, McGovern turned to introducing legislation to end the Vietnam War. In 1970, he co-authored an amendment with Sen. Mark Hatfield (R-OR) to the annual military funding bill which ordered a complete withdrawal by the end of the year. Shortly before the Senate voted on the measure, McGovern took to the chamber floor to castigate colleagues who opposed a hasty pullout.

"This chamber reeks of blood," he said. "It does not take any courage at all for a congressman, or a senator, or a president to wrap himself in the flag and say we are staying in Vietnam, because it is not our blood that is being shed. But we are responsible for those young men and their lives and their hopes."

The amendment failed to pass. But the continued engagement with Vietnam -- and the anti-war left's resulting frustration -- infused momentum into McGovern's 1972 candidacy for the Democratic presidential nomination.

"The doors of government will be opened and that war will be closed," McGovern declared in his acceptance speech at the Democratic National Convention in Miami Beach, FL.

McGovern's campaign hit a major snag just two weeks after the convention when reports surfaced that his running mate, Sen. Thomas Eagleton (D-MO), had received electroshock therapy for clinical repression in the previous decade. Many questioned Eagleton's credentials for the vice presidency. Although McGovern stated that he still supported his running mate "a thousand percent," he accepted Eagleton's offer to step aside a few days later.

McGovern eventually recruited President Kennedy's brother-in-law, ambassador to France and director of the Peace Corps, Sargent Shriver, as his new running mate. The campaign would later become a cautionary example for properly vetting vice presidential candidates.

Nonetheless, McGovern's seriously weakened campaign trudged on. In one memorable incident late in the campaign, McGovern confronted a Nixon supporter heckling one of his speeches. He whispered in the man's ear, "Listen, you son of a b---h, why don't you kiss my ass?" Within days, McGovern supporters could be seen sporting "KMA" buttons. But Nixon soundly defeated McGovern in the general election, winning 61 percent to 37 percent.

After the loss, McGovern kept a relatively low profile in the Senate. He ultimately became a casualty of the 1980 Republican wave which sent Ronald Reagan's to the White House and granted the GOP control of the Senate for six years.

But four years later, McGovern reentered presidential politics for the third time. He intended to the influence the party's platform despite a long-shot candidacy. The former senator also pledged early in the campaign that he would cede the race unless he placed well in the Massachusetts primary. After finishing third, he dropped out and endorsed the eventual nominee Walter Mondale.

Much of McGovern's work in his final years focused on world hunger and agriculture. In 1998, President Bill Clinton appointed him as the U.S. Ambassador to the United Nations Agencies for Food and Agriculture, serving until 2001. Clinton also awarded McGovern with the Presidential Medal of Freedom in August 2000.

Additionally, McGovern and former Senate Majority Leader Bob Dole (R-KS) founded the George McGovern-Robert Dole International Food for Education and Nutrition Program in 2000. They won the World Food Prize in 2008 for their work reducing global poverty and food shortages.

In December 2011, McGovern fell and hit his head shortly before an interview on C-SPAN about his political legacy. McGovern underwent hospitalization in April 2012 to treat spells in which he would lose his consciousness and speaking abilities.
Posted by: Mike Kozlowski || 10/21/2012 08:29 || Comments || Link || E-Mail|| [6479 views] Top|| File under:
-Short Attention Span Theater-
USS Enterprise Makes Final Port Stop In Naples, Italy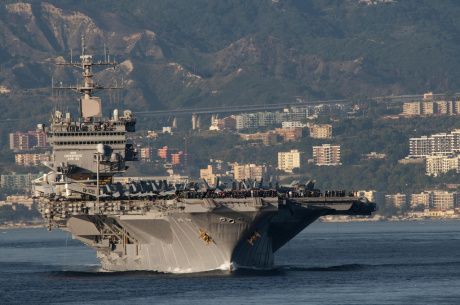 Since its deployment during the Cuban missile crisis in 1962, the USS Enterprise has seen conflicts ranging from the war in Vietnam to those in Bosnia-Herzegovina and Afghanistan. After more than 50 years at sea, the USS Enterprise is headed home from deployment for the last time.

The U.S. Navy's oldest operating vessel, the world's first nuclear-powered carrier, made its final port stop in Naples, Italy, on Friday before setting sail for its home port, Norfolk, Va., where it will be broken down piece by piece before its steel ligaments are sold off for scrap. Its last hurrah mirrored its first. The Enterprise made its inaugural stop in Naples after its commissioning in 1962.

The Enterprise embarked on its 25th and final deployment in March, to the Middle East. In those seven months, its 180 aviators flew roughly 8,800 sorties and the ship crossed the Strait of Hormuz 10 times, peacefully facing off against Iranian sailors amid building tensions in the region. During its longest period at sea, the crew went 52 days without setting foot on land.

"This ship has served its time," said Rear Adm. Walter Carter, commander of the Enterprise Carrier Strike Group, while the ship was ported in the Gulf of Naples on Friday. "It's time to retire."

Many who have served on the ship continue to follow its movements. Nearly 2,000 veterans attended the Enterprise's 50th birthday celebration last year in Norfolk, and 12,000 seats have been set aside for the inactivation ceremony in December.


More info and short vid at link
Posted by: Sherry || 10/21/2012 00:00 || Comments || Link || E-Mail|| [6469 views] Top|| File under:
Taiwan Temple to Launch 'Divine Advice' App
[An Nahar] A temple in southern Taiwan is to launch a smartphone app that allows the faithful to seek advice from the heavens while on the move, reports said Saturday.

"With the increasing popularity of smartphones, we will launch our own divination app next year," said Hung Yang-chen, website designer for Jhen Hai Temple in Pingtung county, according to Central News Agency.

The temple launched a website in 2005 offering online divination services, enabling Internet users to ask heavenly advice about what action to take, whether in love or commerce.

Since the website was launched, the temple has seen an increase in physical visitor numbers of 30 percent, prompting it to expand into mobile apps.

Posted by: Fred || 10/21/2012 00:00 || Comments || Link || E-Mail|| [6472 views] Top|| File under:
Africa Subsaharan
Uganda Denies Backing DRCongo Rebels, Dismisses U.N. Sanctions
[An Nahar] Uganda will contradict U.N. accusations that it supports the M23 rebel group in Democratic Republic of the Congo
...formerly the Congo Free State, Belgian Congo, Zaire, and who knows what else, not to be confused with the Brazzaville Congo or Republic of Congo, which is much smaller and much more (for Africa) stable. DRC gave the world Patrice Lumumba and Joseph Mobutu, followed by years of tedious civil war. Its principle industry seems to be the production of corpses. With a population of about 74 million it has lots of raw material...
, and does not fear threatened sanctions, Kampala's acting foreign minister said Saturday.

The U.N. Security Council said Friday it intends to sanction leaders of M23 and implicitly threatened Rwanda and Uganda, accused in a recent U.N. report of arming the movement.

"We are in the process of preparing a formal response to the allegations" made in the United Nations


...Parkinson's Law on an international scale...


report, Henry Okello Oryem told Agence

La Belle France

Presse.

"We shall respond word by word and statement by statement", he added. "Threats of sanctions talked about is mere talk and we are undeterred by them because the truth will come out."

He described the U.N. accusations and the threat of sanctions as "another manipulation by individuals in the U.N. ... who are trying to fail the regional efforts on DRC."

Kampala is chairing regional efforts by leaders of the Great Lakes region to try to end the chronic violence in eastern DRCongo and to deploy a neutral force there.

When asked if Uganda still has the moral authority to lead the regional initiative, Oryem said: "Put that question to the DRC government.

Posted by: Fred || 10/21/2012 00:00 || Comments || Link || E-Mail|| [6470 views] Top|| File under:
Caucasus/Russia/Central Asia
Anti-Putin Activist Kidnapped in U.N. Ukraine Office
[An Nahar] An opposition member of Russia's parliament claimed on Saturday that a Russian anti-Putin activist has been kidnapped from the United Nations


...a formerly good idea gone bad...


refugee office in Ukraine.

The activist, Leonid Razvozzhaev, is being sought by a Russian committee inquiring into "preparation for the organization of mass riots."

"Razvozzhaev was kidnapped in the offices of the U.N. High Commissioner for Refugees (UNHCR) in Kiev," Ilya Ponomarev, a member of the centre-left opposition party A Just Russia, told the Interfax news agency.

Razvozzhaev is an assistant to Ponomarev.

"Our colleagues in Kiev told us about the kidnapping of Razvozzhaev," Ponomarev said.

Police in Kiev said they had no information on the subject, Interfax Ukraine said.

But a left-wing Ukrainian political movement said Razvozzhaev had come to Ukraine to seek political asylum and when he left the UNHCR building "people working there heard cries for help," the movement said, quoted by Interfax.

"Since then nobody has seen or heard Leonid," it added. Ponomarev said he could not reach his aide.
Posted by: Fred || 10/21/2012 00:00 || Comments || Link || E-Mail|| [6473 views] Top|| File under:
Home Front: Politix
Mr. Johnson Goes to Washington
The Wall Street Journal Weekend Interview: Wisconsin Senator and tea party favorite talks about the frustrations of his first two years as a senator, his version of the 'Buffett Rule,' and what could happen if Mitt Romney wins.

The plain-spoken Oshkosh businessman stands out in the Senate, and not merely because he's unaffected. As Mr. Johnson pointed out in one campaign ad, the Senate in 2010 included 57 lawyers (Mr. Feingold was one) but zero manufacturers and just one accountant. With Mr. Johnson, the Senate gained a manufacturer and an accountant.


Good stuff. Go read the rest.
Posted by: trailing wife || 10/21/2012 00:00 || Comments || Link || E-Mail|| [6467 views] Top|| File under:
International-UN-NGOs
'World' Pledges More Money to Protect Biodiversity
[An Nahar]
Efforts to reverse the worrying loss of Earth's dwindling natural resources received a substantial boost on Saturday when a U.N. conference in India agreed to double biodiversity aid to poor countries.

Governments reached an early-morning deal after long nights of tough bargaining in Hyderabad, south India, that once again saw battle lines drawn between developing and affluent states.

In a week that saw 400 plants and animals added to a "Red List" of species at risk of extinction, negotiators clashed over the extent and timing of additional aid required to halt the decline in species and habitats that humans depend on for food, shelter and livelihoods.

In the end, they agreed to double biodiversity-related funding to developing countries by 2015, from a baseline of average annual aid in the period 2006-2010 -- and to maintain this level until 2020.

No figures were mentioned.

The deal requires at least 75 percent of recipient countries to have reported on their spending by 2015 and to draw up national biodiversity plans in return for the aid.

Canada told the closing plenary that it did not agree with the agreement reached because many recipient countries had failed to report on their biodiversity spending and needs, as agreed at an earlier meeting, but added it would not block the adoption.

Posted by: Fred || 10/21/2012 00:00 || Comments || Link || E-Mail|| [6468 views] Top|| File under:
-Election 2012
International monitors to watch US elections
International monitors at US polling places draw criticism

United Nations-affiliated election monitors from Europe and central Asia will be at polling places around the U.S. looking for voter suppression activities by conservative groups, a concern raised by civil rights groups during a meeting this week. The intervention has drawn criticism from a prominent conservative-leaning group combating election fraud.

The Organization for Security and Cooperation in Europe (OSCE), a United Nations partner on democratization and human rights projects, will deploy 44 observers around the county on Election Day to monitor an array of activities, including potential disputes at polling places.

Liberal-leaning civil rights groups met with representatives from the OSCE this week to raise their fears about what they say are systematic efforts to suppress minority voters likely to vote for President Obama.

The Leadership Conference on Civil and Human Rights, the NAACP and the ACLU, among other groups, warned this month in a letter to Daan Everts, a senior official with OSCE, of "a coordinated political effort to disenfranchise millions of Americans -- particularly traditionally disenfranchised groups like minorities."

The request for foreign monitoring of election sites drew a strong rebuke from Catherine Engelbrecht, founder and president of True the Vote, a conservative-leaning group seeking to crack down on election fraud.

"These activist groups sought assistance not from American sources, but from the United Nations," she said in a statement to The Hill. "The United Nations has no jurisdiction over American elections."

The observers, from countries such as Germany, France, Serbia, Belarus, Ukraine and Kazakhstan, will observe voting at polling places and other political activity.

"They [will] observe the overall election process, not just the ballot casting," said Giovanna Maiola, spokeswoman for OSCE. "They are focusing on a number of areas on the state level, including the legal system, election administration, the campaign, the campaign financing [and] new voting technologies used in the different states."

In a follow-up e-mail, Maiola noted that it is a limited election-observation mission. She said "the OSCE has regularly been invited to observe elections in the United States, in line with OSCE commitments."

Access of international observers during voting is explicitly allowed in some states such as Missouri, South Dakota, North Dakota and New Mexico.

"State law does not generally provide for international observers," Maiola said. "However, through our contacts at state and county level in certain states, we managed to secure invitations at local level and we have taken up the offer to observe. Where this is not possible, we will respect the state regulation on this matter and will not observe in precincts on Election Day."

International observers will follow up on the concerns raised by civil rights groups.

"We attended their meeting, we took note of the issued they raised and we asked our observers in the field to follow up on them," said Maiola.

The OSCE has 56 participating states from Europe, Central Asia and North America, including the United States and Canada. It has assessed elections in the United States since 2002.

Voting is expected to be more contentious this November than in past years because of a running battle over election law pitting conservative groups and Republican state officials against the Obama administration and liberal allies.

The Obama campaign scored a victory this week when the Supreme Court declined to hear an appeal filed by Republican officials in Ohio seeking to limit the state's early voting program.

Last month in Wisconsin, the state Supreme Court declined to immediately review lower-court rulings invalidating a voter-identification law signed by Republican Gov. Scott Walker.

In Florida, judges stopped attempts to restrict voter-registration drives but allowed measures to reduce days of early voting and to remove non-citizens from voting rolls to stand.

Both sides expect wrangling over voter identification and eligibility to extend to polling places and are recruiting armies of volunteers for Election-Day showdowns.

True the Vote, a group with Tea Party origins, has an ambitious plan to deploy hundreds of thousands of volunteers at polling stations to monitor election fraud.

"We may surpass a million volunteers or fall short, it will be hard to know," said Engelbrecht. "But we're very excited about the level of enthusiasm, the number of volunteers, and the fact that we had a positive impact in bringing awareness to this important issue, of election integrity."

Democratic allies will counter with their own forces. The AFL-CIO will dispatch 300 lawyers to monitor poll workers and third-party groups challenging voter registration.

The Advancement Project, a self-described multi-racial civil rights organization, will send more than 3,000 poll watchers to battleground states.

The Election Protection coalition, which includes Democratic allies such as the Sierra Club, Service Employees International Union and People for the American Way, plans to recruit 8,000 to 10,000 volunteers to cover 80 cities and counties.

"We hope that all groups that are putting people at a polling place, that they should follow the law and they should be there to make sure that responsible Americans who wish to participate in our democracy are able to free of intimidation," said Eric Marshall, co-leader of Election Protection.

Civil rights groups have complained about what they say are subtle efforts of intimidation. They point to a billboard campaign in swing states such as Ohio warning voter fraud is a felony punishable by up to three and a half years in prison and a $10,000 fine.

Engelbrecht of True the Vote says intimidation is not her group's motive.

"We are not in the business of picking winners or losers, but instead, to ensure that the process is iron-clad," she said. "Properly trained a capable poll watchers or workers should offer no indication of their partisan or ideological leanings to voters at the polls."
Continued on Page 49
Posted by: Au Auric || 10/21/2012 00:00 || Comments || Link || E-Mail|| [6510 views] Top|| File under:
Who's in the News
46
[untagged]
4
Govt of Pakistan
3
Govt of Iran
3
Arab Spring
3
Govt of Syria
1
al-Qaeda in Iraq
1
Taliban
1
al-Shabaab
1
al-Qaeda in Arabia
1
Pirates
1
TTP
1
Thai Insurgency
1
PFLP
1
Lashkar e-Taiba
1
al-Qaeda
1
Boko Haram
Bookmark
E-Mail Me
The Classics
The O Club
Rantburg Store
The Bloids
The Never-ending Story
Thugburg
Gulf War I
The Way We Were
Bio
Merry-Go-Blog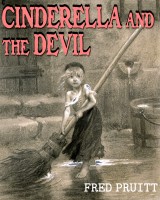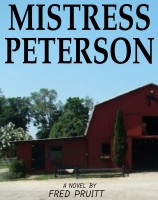 On Sale now!


A multi-volume chronology and reference guide set detailing three years of the Mexican Drug War between 2010 and 2012.

Rantburg.com and borderlandbeat.com correspondent and author Chris Covert presents his first non-fiction work detailing the drug and gang related violence in Mexico.

Chris gives us Mexican press dispatches of drug and gang war violence over three years, presented in a multi volume set intended to chronicle the death, violence and mayhem which has dominated Mexico for six years.
Click here for more information


Meet the Mods
In no particular order...


Steve White
Seafarious
Pappy
lotp
Scooter McGruder
john frum
tu3031
badanov
sherry
ryuge
GolfBravoUSMC
Bright Pebbles
trailing wife
Gloria
Fred
Besoeker
Glenmore
Frank G
3dc
Skidmark
Alaska Paul



Better than the average link...



Rantburg was assembled from recycled algorithms in the United States of America. No trees were destroyed in the production of this weblog. We did hurt some, though. Sorry.
18.232.59.38

Help keep the Burg running! Paypal: