2019-07-29 Home Front: Culture Wars
Bullshit Innocent Explanation For Presidential Seal Foxtrot Uniform
An employee for the conservative group Turning Point USA has reportedly been fired following an incident in which President Trump appeared in front of an altered presidential seal at an event hosted by the organization.

An unnamed Turning Point USA source told CNN that an audiovisual aide responsible for the seal has been dismissed. The source emphasized to the news network that there was "zero malicious intent" behind the image.

"We're sorry for the mix-up and meant no disrespect to the White House or the president or the advance team," the TPUSA source told CNN.

Turning Point USA did not immediately respond to a request for comment from The Hill.

Trump on Tuesday addressed a crowd of about 1,500 young conservatives during the group's Teen Student Action Summit in Washington, D.C. As he walked on stage, a screen behind him displayed an altered presidential seal featuring a two-headed eagle holding a set of golf clubs.

A banner also read "45 es un titere," Spanish for "45 is a puppet," The Washington Post noted. The image was interpreted as a jab at the president for his relationship with Moscow and his love of golf.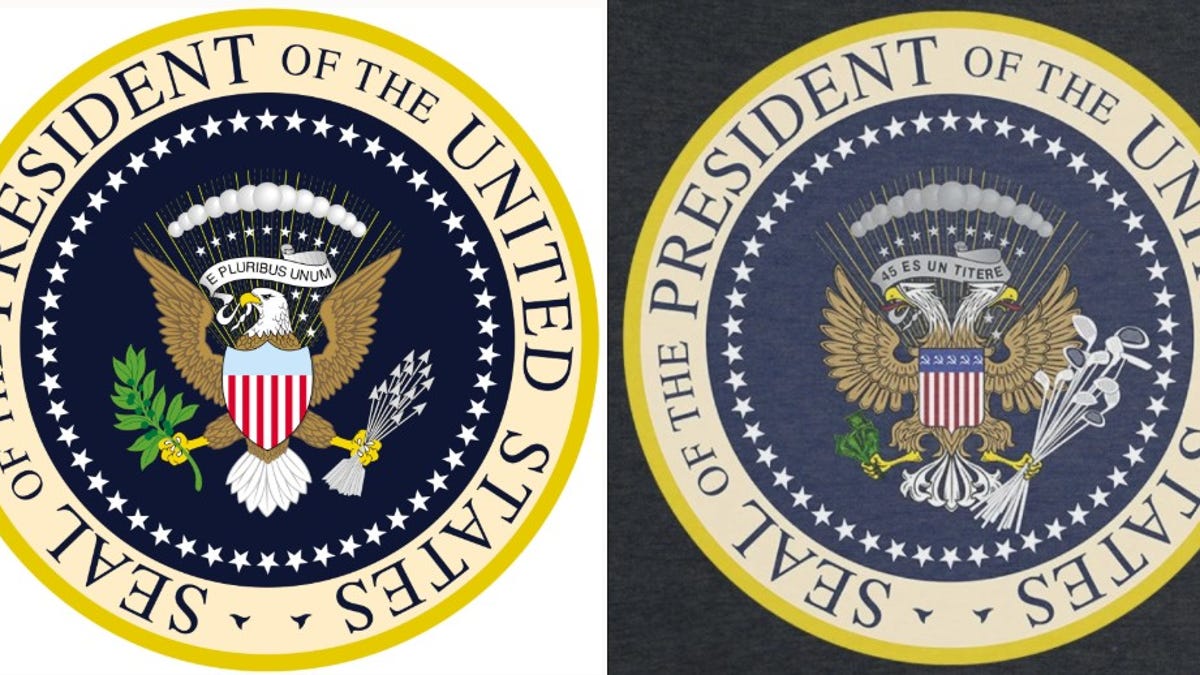 Now comes the bullshit !
A source familiar with the event told CNN that the fake presidential seal appeared on screen because of a Google search mistake. TPUSA had reportedly been planning to use event branding on background screens during Trump's speech. But the team was told just hours before the event to replace the branding with a presidential seal, CNN reported.

"One of our video team members did a Google Image search for a high-res png of a presidential seal," a source familiar with the incident said.

The source said that the individual "did the search and with the pressure of the event, didn't notice that it is a doctored seal."


Nobody is that fucking stupid. Things are triple checked for such occasions. Two headed eagle ? Whatever, You decide.
Posted by Dron66046 2019-07-29 07:32|| E-Mail|| Front Page|| [6463 views ] Top

Posted by Dron66046 2019-07-29 07:54|| 2019-07-29 07:54|| Front Page Top

Posted by Glenmore 2019-07-29 10:24|| 2019-07-29 10:24|| Front Page Top

Posted by SteveS 2019-07-29 14:32|| 2019-07-29 14:32|| Front Page Top

15:26 M. Murcek
15:24 Matt
15:20 M. Murcek
15:19 Matt
15:16 M. Murcek
15:15 Warthog
15:13 Warthog
15:05 Jatch Guelph4728
14:54 swksvolFF
14:51 swksvolFF
14:46 Frank G
14:38 SteveS
14:37 49 Pan
14:29 Skidmark
14:27 g(r)omgoru
14:22 g(r)omgoru
14:22 Skidmark
14:11 Silentbrick
13:52 Skidmark
13:50 Skidmark
13:48 M. Murcek
13:45 Phavimp Smith9261
13:44 Skidmark
13:42 Phavimp Smith9261
Merry-Go-Blog