Afghanistan
Hundreds of Taliban Attack Afghan Government Building
KABUL, Afghanistan — Hundreds of Taliban fighters attacked a western Afghan government building with rocket-propelled grenades and machine guns Monday, killing three police officers and wounding seven in one of the militia's boldest strikes in the long-quiet region. The attack in Farah province could reflect a drive by militants to expand their fight against Afghan and U.S.-led coalition forces beyond insurgency-wracked southern and eastern provinces.

Or it could mean things are a little too hot down south, so they moved to a quieter region

The battle came amid a flurry of suicide attacks, roadside bombings and shootings across the country.

Four suspected suicide attackers riding on two explosives-laden motorbikes in Farah province were killed after they were challenged by police while driving through the provincial capital late Sunday, said Gen. Sayed Aga Saqib, the provincial police chief.

"Halt! I said 'Halt', dammit!"

Two of the suspected attackers were fatally shot. The other two were killed when police shot at their bike and detonated their explosives.

"KABOOM! Wow, they dun blowed up good!"

A boy walking nearby was killed in the explosion, while the child's father was wounded, Saqib said. Near Kandahar, a suicide car bomber seriously wounded two U.S.-led coalition soldiers. Also, gunmen killed two Afghans delivering medicine for international aid agency World Vision.

The heaviest fighting was in the town of Bakwa in Farah province, which had been spared the worst of the violence between resurgent Taliban-led rebels and Afghan and foreign troops that has killed more than 800 people, mostly militants, since mid-May.

About 400 Taliban fighters in about 35 pickup trucks arrived in the town late Sunday and launched a heavy assault on a district police and administration headquarters using dozens of machine guns and rocket-propelled grenade launchers, Saqib said.

400 divided by 35, that's 11 gunnies per pick-em-up truck. Figure three in the cab, that'll leave eight guys in the back chanting slogans and shooting guns in the air. Sounds like Friday night in Waco after a football game.

Minus the Pearl longnecks.

The militants fled back toward neighboring Helmand province after a five-hour battle, carrying an unknown number of militant casualties.

Ride into town, shoot up the sheriffs office, and run away before the Texas Rangers show up. It is Waco.

A suicide car bomber seriously wounded two U.S.-led coalition soldiers when he rammed their convoy as they patrolled with Afghan army soldiers in southern Kandahar province, on the main highway toward the capital, Kabul, coalition spokesman Col. Tom Collins said. The coalition declined to identify the wounded soldiers. Maj. Scott Lundy, another coalition spokesman, said their injuries were "serious but not life-threatening."

In western Ghor province, gunmen killed a doctor and a driver for the aid agency World Vision, said Karimuddin Razazada, deputy governor of Ghor province.
In eastern Afghanistan, an attacker traveling in a taxi from neighboring Pakistan exploded two grenades at a border police checkpoint in Khost province late Sunday, killing a civilian and wounding three others, police said.

Posted by: Steve || 07/24/2006 15:21 || Comments || Link || E-Mail|| [270 views] Top|| File under:
Taliban getting wacked
July 24, 2006: American commanders believe their operations have disrupted Taliban plans, and done a lot of damage to the Taliban leadership. Without providing many details (for security reasons, as the campaign is still going on), it was pointed out that the Taliban have been unable to execute a coherent plan. If the Taliban appear to be flailing about, they are. Every week, one or more Taliban groups are cornered and destroyed by American, NATO or Afghan forces. These operations yield documents and prisoners (for interrogation.) The information gathered in that way would provide an accurate picture of what shape the Taliban are in, and apparently that shape is kind of bent at the moment.


Posted by: Steve || 07/24/2006 09:17 || Comments || Link || E-Mail|| [264 views] Top|| File under:
Blast hits coalition vehicle in Afghan south
KANDAHAR, Afghanistan - A convoy of U.S.-led forces was hit by a blast near the southern Afghan city of Kandahar on Monday and at least two Canadian soldiers were wounded, coalition forces said. Police said the attack was carried out by a suicide bomber. The blast occurred on a main road outside Kandahar city, where a double suicide attack killed two Canadian soldiers and several Afghans on Saturday.

Coalition spokesman Major Scott Lundy told Reuters: "A coalition vehicle was struck by an IED (improvised explosive device) east of the city." But police sources said the blast was a suicide attack. "There was a suicide attack against the coalition this morning," said a police source, who asked not to be identified. Another police official said the area was cordoned off.

"Two Canadian soldiers were wounded in the incident," forces spokeswoman Captain Julie Roberge said. Canadian troops form the bulk of coalition forces in Kandahar, a stronghold for the Taleban guerrillas who are fighting an insurgency against the Afghan government and foreign forces in the country.
Posted by: Steve || 07/24/2006 08:29 || Comments || Link || E-Mail|| [266 views] Top|| File under:
Afghan forces kill 19 Taliban
Afghan forces killed 19 suspected Taliban rebels on Sunday as they traded rocket-propelled grenades and small arms fire with insurgents in volatile southern Afghanistan. The fighting in the southern province of Helmand took place 15 km (nine miles) south of Lashkar Gah, as police hunted Taliban militants, said Mullah Amir Mohammed Akhundza, the provincial deputy governor, who led the operation. Nineteen bodies of militants were recovered, and 17 other suspected Taliban were caught, including two Pakistanis, he said. Hundreds of policemen were involved in the clashes that started early Sunday, said Ghulam Nabi Malakhail, Helmand police chief. Two policemen were wounded.
Posted by: Fred || 07/24/2006 00:00 || Comments || Link || E-Mail|| [312 views] Top|| File under:
Afghan district intelligence boss caught with heroin
KABUL - The intelligence chief of an Afghan district on a major drug trafficking route to Tajikistan has been caught with 33 kilograms (73 pounds) of heroin in a government vehicle, an official said on Sunday.

The intelligence director of Rustaq district in northern Takhar province on the border with Tajikistan was arrested last week, national secret police chief Abdul Wahab Khetab said in the capital Kabul. "He was carrying 33 kilograms of heroin in his government-owned vehicle," he told AFP, adding that the suspect was being questioned by authorities.

The interior ministry has said it has a list of officials alleged to be involved in the drugs trade but has no evidence against them, and there have been few arrests.
Posted by: Steve White || 07/24/2006 00:00 || Comments || Link || E-Mail|| [316 views] Top|| File under:
Africa Horn
Somali Islamists say told by God to fight Ethiopia
...and I think we all know which God they're talking about.


MOGADISHU (Reuters) - Somalia's Islamists whipped up howling mobs religious fervor against Ethiopia on Monday, telling demonstrators God had commanded that they fight troops sent into the country by Addis Ababa to oppose their advance. "We are telling Ethiopia that we are ready to die," said Sheikh Mukhtar Robow, a senior Islamist in charge of defense.
How ready are you, Sheikhy?


I've been thinking of turning him into a pillar of salt, y'know...
-God

"We've been commanded by God to fight you," he said at a rally of hundreds of mostly young men and a few veiled women at a football stadium in the Islamist-controlled capital.


But I'll stay back here and relay the messages from God. Go get 'em, boys!


The demonstrators set fire to an Ethiopian flag to cries of "God is great!"


Ah, yes. We've seen this movie before. Many times.




Ain't I, though? You oughta see me do the Charleston!
      -God

At the same rally, Islamist leader Sheikh Sharif Ahmed also condemned the Ethiopian presence, but suggested his movement may resume stalled talks with the government. "The Islamic courts are ready for talks against the use of force or foreign troops," he told the crowds.


I told him to say that, too.
      -God

Witnesses say Ethiopia has moved thousands of troops across the border to protect Baidoa, provincial base of Somalia's interim government, against Islamists who have seized Mogadishu and a large swathe of the country. Traditionally Christian Ethiopia fears a hardline Muslim state on its doorstep and possible Islamist aspirations to claim its southeastern, ethnically Somali region of Ogaden. The Islamist-organized protest came as a group of Somali legislators urged the Ethiopians to leave the country. It was the first recognition from within the Horn of Africa's interim authorities of a military incursion by Addis Ababa.


Damn. How much popcorn can we eat?




Here, lemme create some more.
      -God
Posted by: tu3031 || 07/24/2006 12:46 || Comments || Link || E-Mail|| [277 views] Top|| File under:
Caucasus/Russia/Central Asia
Border guard vehicles blown up in S.Russia
MOSCOW, July 24 (RIA Novosti) - An explosion hit a convoy of border guard vehicles in southern Russia, and an uncertain number of casualties have been reported, the Interior Ministry said Monday. The source in the ministry said the blast occurred at 6.30 p.m. Moscow time (2.30 GMT) near a local hospital in Nazran in Russia's North Caucasus republic of Ingushetia.

"The explosive device went off at a moment when two vehicles with border guards were passing by," the source said. The source said that the blast had injured a border guard. "So far, criminal investigators have discovered fragments of an explosive device," he said.

Another three cars were at the site at the moment of the blast, but have left the site independently. The number of possible casualties among the passengers is being clarified. Preliminary reports suggest the explosive device had power of 3kg of TNT equivalent.
Posted by: Steve || 07/24/2006 16:21 || Comments || Link || E-Mail|| [277 views] Top|| File under:
Down Under
Spanish court tosses terror conviction
MADRID, Spain - Spain's Supreme Court on Monday threw out a terrorism conviction against the only Spaniard to have been held at the U.S. prison in Guantanamo Bay, Cuba, saying there was no evidence to back up charges he was a member of al-Qaida. The court ordered the immediate release of Hamed Abderrahman Ahmed, who was convicted last year of belonging to a terrorist organization and sentenced to six years in prison. "There is a total absence of prosecution evidence," the Supreme Court said.

Ahmed was captured in Afghanistan in late 2001 and held by Pakistani authorities for about four months before being transferred to Guantanamo. He said he had gone to Afghanistan to study at an Islamic school.

Chemistry major, no doubt


He was returned to Spain in February 2004 and indicted by anti-terrorism judge Baltazar Garzon. Prosecutors said during his trial that Ahmed had gone to Afghanistan to train at an al-Qaida camp, and his address had been recovered by British police in an al-Qaida-linked raid in England.

The Spanish Supreme Court last month threw out an al-Qaida suspect's conviction for conspiracy to commit murder in the Sept. 11, 2001, terrorist attacks in the United States. It also cited weak evidence against the suspect, Syrian-born Spaniard Imad Yarkas, who was indicted by Garzon in Sept. 2003 as suspected leader of an al-Qaida cell in Spain. The court upheld a 12-year sentence against Yarkas for belonging to al-Qaida. It acquitted three other suspects who had been convicted of belonging to or collaborating with al-Qaida.
Posted by: Steve || 07/24/2006 17:52 || Comments || Link || E-Mail|| [390 views] Top|| File under:
India-Pakistan
US embassy put on terror alert
NEW DELHI: The next few days are likely to be very tense for the US embassy here. For a top IB official has sent a letter to security agencies with a chilling message the American embassy is expected to be targetted any time between now and July 30 by terrorists owing allegiance to an Iranian terror group.

This intelligence input has already sent security agencies scampering to plug real or imagined weaknesses in the security ring around the mission. Sources revealed on Monday that the input was received early last week and has been circulated among all security agencies in Delhi, including the police and paramilitary forces.

"The US embassy has been on an extremely high state of alert and things will remain the same for the next few days. The input has even identified one of the men likely to participate in the attack and efforts are on to establish his presence," said a source.

According to the report, the attack is likely to be carried out by a group of 20 terrorists, some of whom have been part of terror attacks in other parts of the world. This group is headed by a terrorist named Jawad Shah Shanas.

The report also says that these 20 men are of Iranian, Afghan and Kashmiri descent and have been in Delhi since June. They are armed with sophisticated weapons and could cause major damage.

"The threat is that they would launch an all-out assault in the nature of a 'fidayeen' attack. The security review was done in keeping with this possibility," said the official. According to the input, the Iranians in the group of 20 are associated with a Iran terror group comprising terrorists who earlier backed Saddam Hussein.

The alert has also left many wondering if international terrorist groups are trying to join hands with Kashmir terror groups. The letter specifically mentions that people of Kashmiri descent are expected to help the Iranians and Afghans carry out the attack.

This is the first real threat input for the US embassy since the closure of some of embassy offices in August last year because of security concerns. It was then said that some al-Qaida militants arrested in Pakistan had revealed that the US embassy in India was likely to be targeted soon.
Posted by: john || 07/24/2006 16:47 || Comments || Link || E-Mail|| [285 views] Top|| File under:
Indian Police Arrest 4th Suspect in Blast
BOMBAY, India (AP) -- Indian police have arrested a fourth suspect in connection with the Bombay train blasts that killed more than 200 people, officials said Monday. The suspect, who was identified as Tanvir Ahmed Ansari, appeared in a Bombay court, where the judge remanded him to police custody until Aug. 4.

Ansari, a Bombay-based practitioner of traditional Unani medicine, was among five people picked up for questioning Saturday, said a police officer who spoke on condition of anonymity because he was not authorized to speak to the media.
Ansari was formally placed under arrest late Sunday, the officer said.

The officer gave no further details about Ansari, but the Press Trust of India news agency reported that Ansari allegedly received training in Pakistan to make bombs and explosives.
Posted by: Steve || 07/24/2006 09:06 || Comments || Link || E-Mail|| [265 views] Top|| File under:
Pak building huge Plutonium production reactor
Pakistan has begun building a powerful new reactor for producing plutonium, a move which signals a major expansion of the country's nuclear weapons capabilities and a potential new escalation in the region's arms race, reports The Washington Post.

'Satellite photos of Pakistan's Khushab nuclear site show what appears to be a partially completed heavy-water reactor capable of producing enough plutonium for 40 to 50 nuclear weapons a year, a 20-fold increase from Pakistan's current capabilities, according to a technical assessment by Washington-based nuclear experts,' says the Post article.

The site is adjacent to Pakistan's only plutonium production reactor, 'a modest, 50-megawatt unit that began operating in 1998. By contrast, the dimensions of the new reactor suggest a capacity of 1,000 megawatts or more, according to the analysis by the Institute for Science and International Security, (ISIS). Pakistan is believed to have 30 to 50 uranium warheads, which tend to be heavier and more difficult than plutonium warheads to mount on missiles,' says the Post.
Continued on Page 49
Posted by: john || 07/24/2006 08:07 || Comments || Link || E-Mail|| [311 views] Top|| File under:
Top Maoist leader gunned down in Andhra
Posted late Sunday, moved to Monday. AoS.

In a big jolt to the Maoist movement in Andhra Pradesh, police gunned down the topmost guerrilla leader in the state in a gun battle Sunday. Madhav, state committee secretary of the outlawed Communist Party of India -Maoist (CPI-Maoist), and seven other rebels were killed by commandos of Greyhounds, the elite anti-Maoist police force, in Nallamalla forests in Prakasam district, about 250 km from here.

This is the first time in over three decades of Maoist insurgency in the state that their top leader was gunned down by police.

Fearing retaliation by the guerrillas, police have sounded a red alert all over the state, and ministers, legislators and other politicians have been advised to take all precautions for their safety.
Continued on Page 49
Posted by: john || 07/24/2006 00:00 || Comments || Link || E-Mail|| [305 views] Top|| File under:
Iraq
Iraqi Shi'ite militia ready to join Hizbollah
A senior member of Muqtada al-Sadr's Iraqi Shi'ite militia, the Mahdi Army, says the group is forming a squadron of up to 1,500 elite fighters to go to Lebanon. The plan reflects the potential of the fighting between Israel and Hezbollah to strengthen radical elements in Iraq and neighboring countries and to draw other regional players into the Lebanon conflict.

"We are choosing the men right now," said Abu Mujtaba, who works in the loosely organized following of radical Shi'ite cleric Muqtada al-Sadr. "We are preparing the right men for the job." Mr. Mujtaba, who was interviewed in Baghdad, said some of the men have had special training but did not specify what kind. Sheik al-Sadr's black-clad armed militia numbers in the thousands, operates throughout central and southern Iraq and is thought to be responsible for numerous killings of Sunnis.

A rival Sunni cleric, Abdul Rahman al-Duleimi, said he knew about the militia's recruiting effort and that he had appealed to his own followers to fight Israel. "We know that the Mahdi militia is on this issue since the Lebanon-Israeli crisis started," said Sheik al-Duleimi, whose house in Baghdad contains a large portrait of former ruler Saddam Hussein. The cleric is not related to Adnan al-Dulaimi, also a Sunni cleric and leader of a major faction in parliament. Sheik al-Duleimi said that during prayers on Friday, he "called the people to volunteer, and if they cannot, they should donate anything. I called on people to donate even one bullet, because maybe this one bullet will kill one Israeli."
Continued on Page 49
Posted by: Steve || 07/24/2006 09:10 || Comments || Link || E-Mail|| [338 views] Top|| File under:
Iraqi forces free two hostages, arrest eight death squad members
(KUNA) -- The US army said on Sunday the Iraqi forces were able to free two hostages and arrest the kidnappers who are involved in death squads east of Baghdad. A statement by the Multinational Forces in Iraq said Iraqi security forces backed up by the Multi-National Forces carried out two raid operations against individuals involved in death squads and racial violence east of Baghdad. The forces were confronted by heavy continuous fire and RPG missiles during the raids, the statement added. The joint forces were able to raid its targets without any casualties among its soldiers, it added. According to the statement two Iraqi hostages were freed and eight kidnappers were arrested.

Iraqi security forces said fierce raids broke out this morning when US-Iraqi forces raided Al-Sadr town east of Baghdad. The sources said the joint forces backed up by US helicopters raided in the early hours of Sunday morning Al-Sadr town.
Posted by: Fred || 07/24/2006 00:00 || Comments || Link || E-Mail|| [325 views] Top|| File under:
Eastern Baghdad car blast toll up to 32 dead, 63 injured
(KUNA) -- The latest reports bring up the death toll in the car blast earlier in the day in Sadr City, eastern Baghdad, to 32 and the number of those injured to 63 people, according to Interior Ministry sources. The sources said the explosives team thinks it is most probable the car was rigged with 200 kilograms of explosives. They said this 'preliminary' tally of victims was provided by Kindi and Sadr Hospitals and from medical teams who took part in rescue and recovery at the scene. The sources said the blast set fire to seven civilian vehicles, including a minibus that was transporting passengers from Sadr City and caused damage to a nearby building and 10 shops in close proximity.

The American Army had in a statement today reported that Iraqi forces managed to free two hostages and arrest eight of the kidnappers involved in the so-called death squads in Sadr City. It said confrontations erupted in the area between Iraqi and US forces on the one hand and militants on the other. The joint forces, it said, came under heavy shooting from several locations using small arms, automatic weapons, and RPGs. The statement would not say whether the confrontations were actually in Sadr City but Iraqi Police sources said there were raids and violent confrontations this morning when Iraqi-US forces broke into the city. The sources said that joint forces backed up with helicopters broke into sector seven of the city early this morning, which led to the heavy confrontations, and added the toll is yet to be known.
Posted by: Fred || 07/24/2006 00:00 || Comments || Link || E-Mail|| [249 views] Top|| File under:
Multinational forces arrest 154 suspected terrorists in Kirkuk
(KUNA) -- Multinational Forces (MNF) arrested more than 150 insurgents in cooperation with Iraqi security forces south west of Kirkuk northern Iraq, on Sunday. In a joint military operation, more than 3000 Iraqi and US soldiers besieged Al-Riyadh city and Al-Huwijah, western Kirkuk, in search for Al-Qaeda activists, a statement by the multinational forces said today. The forces arrested 154 suspected terrorists and seized more than 350 weapons including mortar shells, guns, missiles, and RPGs.

The military operation was in response to the calls of tribal leaders in the two cities who requested the intervention of military forces, especially after a series of terrorist attacks. The operation was also based on specific intelligence information that indicated the deployment of Al-Qaeda members in western Kirkuk. Over the last five weeks, 31 Iraqi soldiers were killed in attacks. During the past three days, six policemen were killed in Al-Huweija
Posted by: Fred || 07/24/2006 00:00 || Comments || Link || E-Mail|| [267 views] Top|| File under:
Casualty count rises: 16 killed, 150 injured in Kirkuk car explosion
(KUNA) -- The casualties from the booby-trapped car in Kirkuk reached 170 people, according to Iraqi police. Kirkuk police chief, Sard Qader, told KUNA, 19 people have been killed and 150 people injured. Many of the injuries are severe, he added. Two storeys of the Kirkuk court building were damaged. Thirty civilian vehicles caught fire in the area. According to Qader, this bomb is one of the most violent witnessed in Kirkuk.
Posted by: Fred || 07/24/2006 00:00 || Comments || Link || E-Mail|| [271 views] Top|| File under:
Three civilians injured in separate attacks in Kirkuk
(KUNA) -- Three Iraqis were injured in two separate attacks southwestern Kirkuk, said police on Sunday. In the area of Nehyat al-Riyadh, a mortar shell hit the market area, injuring two civilians who were transferred later for al-Hwuaijah hospital for treatment, an Iraqi police source told KUNA.

Meanwhile, another civilian was injured when a timed-bomb exploded in the Kirkuk-Hwuaijah highway. The explosion also damaged a civilian car.

The Iraqi city of Kirkuk has witnessed this afternoon the most violent explosion that took place near the city's court, which resulted in the killing and injuring of some 120 civilians, including three judges, according to the latest figures. The explosion also resulted in severely damaging surrounding buildings, cars and nearby stores.
Posted by: Fred || 07/24/2006 00:00 || Comments || Link || E-Mail|| [259 views] Top|| File under:
Iraqi judge escapes life bid
(KUNA) -- An Iraqi judge escaped an assassination attempt in Mosul on Sunday, Iraqi police said. A source at the police said justice Mohammad Hamadi Hindi was driving to work in eastern Mosul when unknown gunmen sprayed his car with bullets injuring him but killing his driver.
Posted by: Fred || 07/24/2006 00:00 || Comments || Link || E-Mail|| [257 views] Top|| File under:
Israel-Palestine-Jordan
No injuries in Gaza City explosion
An explosion in a house in eastern Gaza City on Monday caused no casualties, witnesses said. It was not immediately clear what caused the blast.

Posted by: Seafarious || 07/24/2006 18:49 || Comments || Link || E-Mail|| [374 views] Top|| File under:
Israeli Forces Attack Islamic Jihad Weapons Warehouse in Gaza
The Israel Air Force and IDF Southern Command carried out a joint attack on an Islamic Jihad weapons factory and warehouse in the Zeitous neighborhood in Gaza on Monday. Secondary explosions were seen at the site following the IDF attack, confirming the existence of explosives in the warehouse.

Five terrorists were eliminated and 9 injured during an IDF strike in Beit Lahiya, where at least 7 Kassam rockets were fired at southern Israel earlier in the day. PA Arabs in northern Gaza said that dozens of families were leaving their homes in the Awdah neighborhood near Beit Lahiya in anticipation of IDF attacks in the area. Two rockets were fired from Beit Lahiya at Ashkelon, with one landing close to a strategic facility in the fifth-largest city. The second landed in an open area. No injuries or damage was reported.

Two Kassams landed in the city of Sderot, which has absorbed hundreds of rockets in the past year alone. One rocket fell near the entrance to the city. The other landed in the Rabin neighborhood. There, too, no one was hurt and no damage was reported. Later in the day, another rocket fell in the area of Kibbutz Zikkim. No injuries or damage reported.
Posted by: Steve || 07/24/2006 16:23 || Comments || Link || E-Mail|| [275 views] Top|| File under:
Three Terrorists Killed in Gaza
(IsraelNN.com) Three terrorists were killed in Gaza Monday afternoon by the Israeli Defense Forces. The terrorists were killed by artillery fire directed at the house in which they were hiding in Beit Lahiya in the Gaza strip.

The IDF is conducting attacks against terrorists in Gaza in order to stop rocket fire directed at Israeli towns.

Posted by: Steve || 07/24/2006 08:34 || Comments || Link || E-Mail|| [267 views] Top|| File under:
IDF: Terrorists running out of rockets
IDF Military Intelligence (MI) believes the army has 10 days left before diplomatic pressure puts an end to Operation Change of Direction against Hizbullah, The Jerusalem Post learned on Sunday.

In addition, MI - reflecting its latest strategic assessment - believes that the Islamist group has already been dealt a severe blow by the IDF operation launched 12 days ago, and that within a month it will run out of Katyusha rockets to fire at Israel.

Hizbullah is organized along military lines, with regional commands in southern, northern and central Lebanon. The unit in the south, called the "Katyusha Unit" by the IDF, consists of some 1,000 fighters who have been responsible for most of the rocket attacks on communities north of Acre and Amiad.

The unit has been able to recruit reserves, but MI has noticed that it has run into difficulty convincing members of the terror group who reside in northern Lebanon to travel south to participate in the fighting.

Once the unit exhausts the missiles currently in its possession, it will, MI believes, have difficulty acquiring more, since most of the roads and supply routes have been destroyed by the IDF. Several Syrian and Iranian attempts to send supplies to Hizbullah have been thwarted by the IDF.

North of the Litani River, Hizbullah operates a unit called the "medium-range rocket unit" believed to be responsible for firing Katyushas at Haifa and Israel's northern coast. Most of that unit's missiles were supplied by Syria prior to the current conflict.

This unit is also believed to have an arsenal of long-range rockets - Iranian-made Fajr 5 and Zelzal missiles capable of reaching targets 200 km. away.

Hizbullah still has several functioning military command centers in different regions in Lebanon, according to MI assessments. Officials in these centers are still able to command Hizbullah's men in the field.

Military Intelligence has set up a team to oversee targeted killings of Hizbullah officials, but the unit has had limited success. MI does not believe that killing Hizbullah leader Sheikh Hassan Nasrallah would necessarily end the conflict.

MI believes that Hizbullah has been dealt a "critical blow" to its image in Lebanon and throughout the Arab world. Lebanese leaders blame Nasrallah for provoking Israel and "bringing a disaster upon their country," MI believes.

Hizbullah also reportedly has three units charged with intelligence operations. One unit is in charge of espionage against Israel, including the recruitment of agents who gather intelligence on IDF bases and other strategic installations.
A unit called "1800" is reportedly responsible for the recruitment of Palestinians in the West Bank and the Gaza Strip.

There is also reportedly a third unit, in charge of counter-intelligence operations.
Posted by: Slolutch Omavising4399 || 07/24/2006 08:32 || Comments || Link || E-Mail|| [280 views] Top|| File under:
Hizballah Brings Iwo Jima Tactics to Baffle Israeli Forces
Israeli forces have pushed forward from the mountaintop village of Maroun er Ras captured Sunday to the fringes of Bint Jubeil, Hizballah's south Lebanese capital. Monday they suffered nine wounded in face to face combat. Whereas TV cameras showed much footage of the Maroun er Ras engagement, the IDF's other battle pockets are kept under wraps.

Hizballah chief Hassan Nasrallah, who has an overall view, warned Israel in an interview to the Lebanese A Safir Monday, July 24, that its ground incursions in Lebanon would not stop Hizballah rocket fire against its cities. He certainly meant this as a morale-depressant for Israel troops. At the same time, DEBKAfile's military experts say that what he says is correct and must be taken into account in any diplomatic formula sought to end the warfare.

1. He could go on firing his rockets even when a multinational force is posted on the Lebanese-Israeli border. The force currently contemplated by Israeli prime minister Ehud Olmert at this early stage of international diplomacy would consist of German, French and Czech units.

2. And even if multinational troops were deployed additionally on the Lebanese-Syrian border, they would not hamper Hizballah's rocket offensive. Therefore a buffer zone would offer no solution to a cessation of cross-border hostilities.
Continued on Page 49
Posted by: Steve || 07/24/2006 08:19 || Comments || Link || E-Mail|| [445 views] Top|| File under:
Palestinian resistance fighters attack Sderot
(KUNA) -- Ezzedine Al-Qassam Brigades, the military wing of Hamas movement, on Sunday claimed responsibility for attacking the Israeli Sderot settlement. The brigades said in a statement that four missiles were launched against the settlement as a confrontation of the Israeli aggression on Gaza.

For its part, Al-Quds Brigades, the military arm of Islamic Jihad and Al-Mujahideen Brigades declared in a statement joint responsibility for also launching three missiles against Sderot. The statement said that this operation comes in retaliation to the Israeli aggression on Palestine and Lebanon.

Meanwhile, spokesman of the Israeli army said that two Palestinian missiles fell in the western Negev in south Israel. The spokesman claimed that no casualties or damage have been reported.
Posted by: Fred || 07/24/2006 00:00 || Comments || Link || E-Mail|| [748 views] Top|| File under:
Palestinian missiles target Israeli military monitoring tower
(KUNA) -- Spokesman of the Israeli Army announced that three explosions occurred Sunday afternoon near the Erez crossing north of Gaza as a result of Palestinian shelling. The spokesman told Radio Israel that Israeli soldiers, stationed near the crossing that joins Gaza and Israel, opened fire everywhere and closed the crossing soon after the explosions occurred. He claimed the explosions did not cause any casualties or damage.

Meanwhile, Al-Quds Brigades, the armed wing of the Palestinian Islamic Jihad (PIJ) organization, claimed responsibility of launching two RPGs at a military monitoring tower north of Earz crossing. It said in a release that the shelling comes in retaliation to the continuous Israeli attacks on Palestinians in Gaza and on Lebanon.

The Izzuddine Al-Qassam Brigades, Hamas's military wing, announced it shelled the Israeli settlement of Netiv Esra with Qassam missiles Sunday afternoon. It emphasized in a release that it vowed to resist any Israeli attack on Gaza and to "teach the enemy a lesson he will never forget".
Posted by: Fred || 07/24/2006 00:00 || Comments || Link || E-Mail|| [257 views] Top|| File under:
Southeast Asia
Buddhist teacher gunned down in classroom in southern Thailand
A suspected Muslim insurgent shot to death a primary school teacher Monday in a classroom full of children in violence-plagued southern Thailand, police said. The gunman disguised himself in a student uniform, entered the fourth grade classroom and killed Prasarn Martchu, a 46-year-old Buddhist teacher, while he was teaching at a public school in Narathiwat's Rue So district, said police Col. Banlue Chawej. "The teacher was still holding a piece of chalk'' when he was killed, Banlue said. The gunman fled on a motorcycle with a getaway driver.

The primary school, which has 11 teachers and about 250 students, was temporarily closed after the shooting, police said. Prasarn had worked at the school for more than 20 years. Prasarn is the 44th teacher to have been killed by suspected Muslim militants since 2004, said Sanguan Jintarat, head of the Narathiwat Teachers' Association.
Posted by: ryuge || 07/24/2006 06:59 || Comments || Link || E-Mail|| [274 views] Top|| File under:
UN humanitarian chief accused Hizbullah of 'cowardly blending' among civilians
The U.N. humanitarian chief, returing from a visit to Beirut, accused Hizbullah on Monday of "cowardly blending" among Lebanese civilians and causing the deaths of hundreds.

"Consistently, from the Hizbullah heartland, my message was that Hizbullah must stop this cowardly blending ... among women and children," Egeland said, shortly before departing for Israel. "I heard they were proud because they lost very few fighters and that it was the civilians bearing the brunt of this. I don't think anyone should be proud of having many more children and women dead than armed men."
Posted by: twobyfour || 07/24/2006 17:07 || Comments || Link || E-Mail|| [402 views] Top|| File under:
IRG War Dead Flown to Iran
JERUSALEM — The bodies of Iranian Revolutionary Guard soldiers killed by the Israeli army in Lebanon have been transported to Syria and flown to Tehran, senior Lebanese political sources said.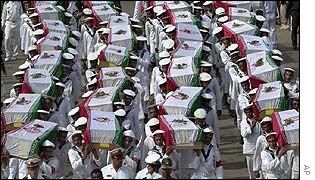 Israeli and Egyptian security officials confirmed the news, which follows a report that first appeared in The New York Sun, that Iranian forces posted to southern Lebanon have been aiding Hezbollah terrorists in their attacks against Israel, including helping to fire rockets into Israeli population centers.

The Lebanese sources said between six and nine dead Iranian Revolutionary Guard soldiers were brought in trucks last week into Syria for a flight back to Iran. They said the bodies were transported along with the tens of thousands of Lebanese civilians fleeing to Syria.

Israeli officials said Iranian Revolutionary Guards directed the firing two weeks ago of a radar-guided C–802 missile that hit an Israeli navy vessel off the coast of Lebanon, killing four soldiers. Israel says Iran acquired the missile from China.

The officials said the Iranian soldiers' duties include keeping custody of long-range missiles within Hezbollah's arsenal, including Zalzal rockets that are said to have a range of 125 miles, placing Tel Aviv within firing range.

Jordanian officials told the Sun they are "100% sure" Iranian Revolutionary Guard soldiers have fired rockets into Israel. They also said the Syrian army has provided Hezbollah with intelligence information on the locations of strategic Israeli targets to aid in Hezbollah rocket fire.

A Baath Party official operating out of the Golan Heights told the Sun he has information that Iranian soldiers have been firing rockets into Israel.

It would be "very logical" if Iranian Revolutionary Guard soldiers were helping Hezbollah fire the rockets, a senior Egyptian security official told the Sun.

Israel has long maintained that Iranian Revolutionary Guard units have traveled regularly to south Lebanon to help train local Hezbollah fighters in terrorist tactics and to fortify Hezbollah positions along Israel's northern border.

At times, Revolutionary Guard soldiers have been seen operating openly at Hezbollah outposts in plain view from the Israeli side, military officials say.

Earlier, an Israeli Foreign Ministry spokesman, Mark Regev, said Israel has information that Hezbollah was trying to transfer the two soldiers it kidnapped to Iran.
Posted by: DanNY || 07/24/2006 11:29 || Comments || Link || E-Mail|| [376 views] Top|| File under:
Sleeper Hizbullah cells activated
Hizbullah "sleeper" terror cells set up outside Lebanon with Iranian assistance have been put on standby The Jerusalem Post learned on Sunday, and are likely planning attacks against Jewish and Israeli targets throughout the world. The Shin Bet (Israel Security Agency) confirmed to the Post Sunday night that it had instructed embassies, consulates and Jewish institutions it was responsible for abroad to raise their level of awareness in light of the conflict in the North.

The assumption within Military Intelligence is that Hizbullah would only attack targets abroad if it felt pushed into a corner. According to this thinking, the Islamist group hesitates to carry out such attacks because it does not want to be associated with Global Jihad and al-Qaida.

Hizbullah has attacked Jewish and Israeli targets abroad in the past. The organization is believed to have been behind the attack on the Israeli Embassy in Buenos Aires in 1992 during which a suicide bomber drove a pick-up truck filled with explosives into the building, killing 29 people and wounding 242, following Israel's assassination of the group's leader at the time, Sheikh Abbas Musawi. Hizbullah is also thought to have been responsible for the attack on the Argentine Israelite Mutual Association building in Buenos Aires in 1994, when an explosives-laden van rammed into the structure and killed 85 people. Another attack attributed to the group was the 1985 hijacking of TWA flight 847. One passenger was murdered; the remainder of the hostages were released over a two-week period.
Posted by: Fred || 07/24/2006 00:00 || Comments || Link || E-Mail|| [261 views] Top|| File under:
Israeli warplanes strike communication relay station, kill camera-woman
(KUNA) -- Israeli warplanes roared at medium and low altitudes on Sunday and scrambled to hit targets on hills in the coastal town of Naameh, a few kilometers south of the Lebanese capital. The jet fighters also hit antennas of a telephone network, located on a hill close to the southern town of Jezzine, a day after the Israeli air force struck several relay communication stations on high ground throughout the country, security sources reported.

The aircraft, in today's operations, struck the southern village of Shiheen, killing one person and wounding three others. Another air strike on a road leading to the southern village of Qana resulted in the death of the Lebanese camera-woman, Layal Naijb. The warplanes also hit targets in the southern suburbs of Beirut.

Security sources said the jet fighters fired rockets in the direction of the so-called "security square," a spot in the residential region where Hezbollah has main offices and facilities in addition to residents of several leading members of the organization. Several high-rise buildings in this location have been destroyed due to a series of attacks by the Israeli warplanes and gunboats.
Continued on Page 49
Posted by: Fred || 07/24/2006 00:00 || Comments || Link || E-Mail|| [276 views] Top|| File under:
Israel captures two Hezbollah men
Israel has captured two Hezbollah fighters as it kept up its air and ground blitz on Lebanon despite accusations from the UN relief chief that it is "violating humanitarian law". The army captured two militants from the Hezbollah group in the south Lebanese village of Marun al-Ras, seized by Israel in a major incursion on Saturday, and brought them back to Israel, the military radio said on Monday. The capture appeared a tit-for-tat response to Hezbollah's kidnapping of two Israeli soldiers on July 12 which started the current crisis and spurred Israel to embark on an offensive to defeat the Shia group.
Posted by: Fred || 07/24/2006 00:00 || Comments || Link || E-Mail|| [308 views] Top|| File under:
UN observer injured in Lebanon fighting
TYRE, Lebanon - A UN military observer was seriously wounded on Sunday in a border village in southern Lebanon, apparently by Hezbollah fire during a clash with the Israeli army, a UN spokesman said.

"One unarmed UN military observer was seriously wounded by small arm fire inside a UN position in Marun Al Ras," Milos Strugar said in a statement. "He has been evacuated to the nearest hospital in Israel," he said. "According to primary report, the fire came from Hezbollah during an exchange of fire" with the Israeli army."

There was no word on his nationality.
Posted by: Steve White || 07/24/2006 00:00 || Comments || Link || E-Mail|| [281 views] Top|| File under:
Who's in the News
89
[untagged]
Bookmark
E-Mail Me
The Classics
The O Club
Rantburg Store
The Bloids
The Never-ending Story
Thugburg
Gulf War I
The Way We Were
Bio
Merry-Go-Blog
Hair Through the Ages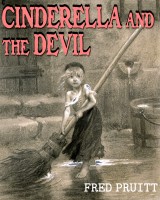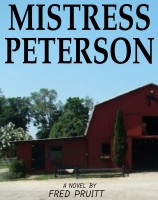 On Sale now!


A multi-volume chronology and reference guide set detailing three years of the Mexican Drug War between 2010 and 2012.

Rantburg.com and borderlandbeat.com correspondent and author Chris Covert presents his first non-fiction work detailing the drug and gang related violence in Mexico.

Chris gives us Mexican press dispatches of drug and gang war violence over three years, presented in a multi volume set intended to chronicle the death, violence and mayhem which has dominated Mexico for six years.
Click here for more information


Meet the Mods
In no particular order...


Steve White
Seafarious
Pappy
lotp
Scooter McGruder
john frum
tu3031
badanov
sherry
ryuge
GolfBravoUSMC
Bright Pebbles
trailing wife
Gloria
Fred
Besoeker
Glenmore
Frank G
3dc
Skidmark
Alaska Paul



Better than the average link...



Rantburg was assembled from recycled algorithms in the United States of America. No trees were destroyed in the production of this weblog. We did hurt some, though. Sorry.
35.175.133.127