Gun suit vs. Upper Darby will cause ripples (Nutter proposal affected)
Delaware County attorney C. Scott Shields says Mayor-elect Michael Nutter's "stop-and-frisk" proposal for getting illegal guns off Philadelphia's streets is a lawsuit waiting to happen.


Only a nutter would try something this here in Texas. Not sure about Philly.




I'm pretty sure it's unconstitutional, and the 2nd Amendment isn't the only issue -- there is also the 4th, which protects us against searches without probable cause. Doesn't anyone study the Constitution these days?

Shields, the mayor of Rutledge Borough, plans to sue the city himself if Nutter implements the policy – just as soon as he gets done suing Upper Darby Township for what you might call its "take-and-keep" approach to gun control.

Shields is representing township resident Mary Welsch, who claims in a federal lawsuit before U.S. District Judge Juan R. Sanchez that police illegally took her deceased father's guns from her house, then refused to return them without a court order.

The township has agreed to give the 16 guns back to Welsch, her father's sole beneficiary, but she is pushing ahead with the civil rights suit in an attempt to have the department's gun-seizure policy declared unconstitutional.

If there is a ruling in the case, it could potentially set a precedent that impacts Philadelphia's ability to seize guns in certain situations, said Temple Law School professor David Kairys.

The lawsuit, filed in October, stems from an incident last summer, during which Upper Darby police cleared Welsch's Dennison Avenue home of firearms after her father shot himself to death with a revolver. But, the suit states, police later refused to return the guns even though the death was ruled a suicide the next morning and the investigation was closed.

Ray Britt, a retired Upper Darby detective who served on the force from 1996 to 2004, said yesterday that uniformed cops were routinely instructed to seize legally owned guns when they responded to domestic disputes. When the owners came to the station to get their guns back, Britt said, police typically told them that they needed to hire an attorney and get a court order. Some of those firearms were later resold to local gun shops, he said.


Which means it's not about gun control at all: if it were, the police would destroy the guns. Instead, it's about police taking power that they don't legally have.

Police Superintendent Michael Chitwood Sr. said yesterday that his department will not return seized firearms without a court order or his personal approval. Those that aren't returned to the owners are destroyed.

The federal Bureau of Alcohol, Tobacco, Firearms and Explosives and the state attorney general's office are investigating aspects of the township's policy. Those investigations are focused on activity that apparently predated Chitwood's arrival in 2005.

Upper Darby no longer resells guns to dealers. But its policy of confiscating firearms – sometimes solely for safety reasons – then requiring a court order before returning them could leave the township open to lawsuits from legal gun owners, said Widener Law School professor Wesley Oliver. "It's very clear to me that her constitutional rights have been violated," Oliver said of Welsch.


There is also a word here in Texas for people who take the property of others at gunpoint. We call them "thieves."
Posted by: Angique Gonque2974 || 12/08/2007 00:00 || Comments || Link || E-Mail|| [6486 views] Top|| File under:
-Short Attention Span Theater-
Lt. Col Steve Russell (AoS) in NBC banned commercial
From Powerline.com
This past summer we wrote about the refusal of CNBC and MSNBC to run ads submitted by Freedom's Watch supporting the war. Now Freedom's Watch has submitted ads thanking the troops for airing by NBC et al. again, and they have declined because the ads mention Freedom Watch's Web site.
I saw one on Fox last night, and at the end, is a familiar face to lots of Rantburg folks -- Lt. Col Steve Russell, Ret., from OIF 1. Click above to see the banned commercial.
Posted by: Sherry || 12/08/2007 13:39 || Comments || Link || E-Mail|| [6480 views] Top|| File under:
Swedish women lose fight for topless bathing
Two Swedish women who want to be allowed go tøpless in the nation's swimming pools have had their case rejected by Sweden's equality watchdog.


"Ja, sure! Yøu're rejected!"

A ruling released on Friday underlined that women's bodies were different from men's:


There is? Good Gawd! When did that start?

"There is a physical difference between a woman's upper body and that of a man," said Equal Opportunities Ombudsman Anne-Marie Bergström.


"The ladies bane got dem hønkers, yew betcha!"

"There is also a great difference between how people in general perceive men's and women's bodies.


That may explain why the ladies are so much more fun to look at...

"It is therefore hard to maintain that [the tøpless bathers] were in a comparable situation to men who bathed with nåked upper bodies."


"The dangly parts were entirely different."

Ragnhild Karlsson, 22, who brought the case, told The Local on Friday that she was unsurprised by the ruling:


"Nøpe. Nøpe. I ain't surprised."

"Of course we are disappointed, but I understand that from a legal perspective they can't pursue this case. Still, I think it's sad that society is the way it is - that men don't have to cover their upper bodies but women do," she said.


"And they get to pee standing up without getting their feet all wet. That's always bothered me."
"And we think they shøuld have tø üse tåmpøns."
"There shøuld be å låw requiring it!"

The case reached the watchdog in September after Karlsson and her friend Kristin Karlsson, 21, went for a tøpless swim at the Fyrishov swimming pool in Uppsala.


"Hey, Sven! Løøk at the fløaties øn døse twø!"

A female lifeguard caught sight of the pair and told to put their tops back on or leave the pool.


"Støp thåt this instånt, yøu bråzen hüssies! Yøu bane distractin' da menvølk!!"

They chose to leave the pool.


"Well! If you wanna be that way, we're leavin'!"
"Yøu seen the frønt øf us. Dis is what da back øf us løøks like!"

The women complained to the ombudsman, saying that if men can show their chests, women should be allowed to do so as well.


"How're these different from those?"
"Urk!"

But the watchdog said different rules were applied to men and women in most cultures:
"Women's bodies have more often been the subject sexually objectification, decrees and dress-codes. In our society, the female body is sexualized in a way that the male body is not. This is demonstrated in pørnography and in parts of the rest of the media."


"But regardless of how you phrase it, nobody gets to show their dangly parts!"

Bergström said that the fact that women's bodies were objectified "is a sign of a lack of equality and hampers the process of building an equal society."


"And we all know, there ain't nothin' more equal than titties!"

Despite rejecting the women's case, Bergström said it was good that they had raised the question: "The case has achieved a lot of attention and it is good that we can have a discussion about unequal rules for the bodies of men and women."


"Nø matter høw støøpid it is."

The women behind the protest say they are pleased with their campaign, despite Friday's verdict.


"Ja, sure! Everybody løøked at øur hønkers! I gøt dates well intø next mønth!"

The case has provoked "lots of positive reactions," said Karlsson. One result has been the 'Bara Bröst' network, which campaigns for women's honkers boobies breasts to be jiggled bared displayed 'desexualized'. The name translates both as both as 'Bare Breasts' and 'Just Breasts'. "We've had a few negative reactions too," she added. "There have been quite a few un-serious comments from men who say 'this is OK for attractive women, but not for ugly women," she said.


"Didja ever think maybe that's why they're kept under wraps? To give all the ladies a chance?"

Karlsson pointed out that men can walk around bare-chested "no matter what they look like." She also pointed out that they want topless bathing to be "an individual decision. We're not saying that everyone should go topless."


"Only those of us with cømely hønkers!"

Meanwhile, the campaign for equality is set to continue. "We are going to pursue this through political means," said Karlsson.

Posted by: Fred || 12/08/2007 00:00 || Comments || Link || E-Mail|| [6464 views] Top|| File under:
Family Begs for $1 Million To Buy Fancy Apartment
A family on the Upper West Side of New York has placed an ad in New York magazine pleading for $1 million to buy an apartment so they can stay in their wealthy neighborhood. Gawker spotted the ad and posted it here; it reads:

"WE NEED HELP BUYING AN APARTMENT on the UWS, 3bd 2 bath. YOU are a philanthropic, wealthy person who would not miss a million bucks and would be interested in donating (or even investing) in a highly targeted manner: to my family. WE are a wonderful, hard working middle class family who contributes to our UWS community, is entrenched, happy and desperately wants to remain on the UWS (lest the city lose yet another wonderful family to the burbs). We can afford 600-700K, so you see the predicament. Can you help us??"

We're not going to reprint their email address (Gawker has it), because we don't want any of you millionaires being tempted to help these horrid people. As charities that serve, I don't know, POOR PEOPLE, make their holiday pleas for donations, this rich family has the GALL to imply that they with their 700K budget are needy. We WISH we had their problems.

Oh wait, we DO. That's why we live in a teensy apartment in Brooklyn, where our 100-square-foot home office is also our son's nursery. And still, we're donating to actual charities this year, like the Red Cross. We also ran a list here on Babble's holiday gift guide of some smaller, family-friendly do-gooding organizations, like Modest Needs, where you can help a genuinely struggling family with an unexpectedly high electric bill or transportation to work.

Are you donating to charities this year? What are your favorite ones? Please don't say the Upper West Side Whiners Society.


I would like to help these downtrodden peasants, but a million would force me to leave my Gulfstream on the tarmac and take a low-class Learjet to the next climate conference in Acapulco.
Posted by: Angique Gonque2974 || 12/08/2007 00:00 || Comments || Link || E-Mail|| [6457 views] Top|| File under:
-Signs, Portents, and the Weather-
Wreaths Across America: Maine to Arlington begins Sunday
There's a new, great video from last year's Wreaths Across American. Scroll down to view it, and appreciate this incredible tradition. Click on the link in the last paragraph to find a participating cemetery in your location.



The Wreaths Across America story began over 15 years ago when Worcester Wreath Company (a for-profit commercial business from Harrington, Maine) began a tradition of placing wreaths on the headstones of our Nation's fallen heroes at Arlington National Cemetery.

Over that period of time,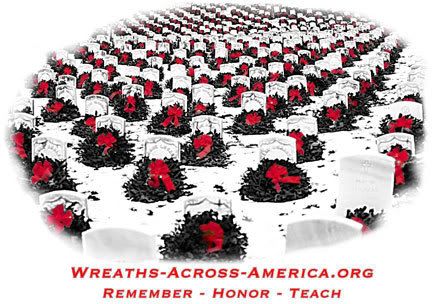 Worcester Wreath has donated 75,000 wreaths which were placed by volunteers in a wreath-laying ceremony each December. This year, Worcester Wreath Company will do even more to show its respect and appreciation for those who serve, by doing the following:

* Doubling its annual donation to 10,000 wreaths destined for Arlington National Cemetery.

* In addition to the Arlington Wreath Project, Worcester Wreath will donate 2,500 wreaths to the Maine Veterans Cemetery at Togus, and over 1,800 ceremonial wreaths, representing all branches of the armed forces, will be sent to over 200 other state and national veterans cemeteries across the Country.

* For the first time in 2007, ceremonial wreaths will also be donated to 24 veterans cemeteries on foreign soil, and aboard U.S. ships sailing in all seven seas.

* All wreath-laying ceremonies will be held concurrently on Saturday, December 15th, at 12:00 noon EST.

* And lastly, on Monday, December 10th, 51 wreaths will be donated for a special wreath-laying ceremony at each State Capital and 36" ceremonial wreath for our Nation's Capital.

Needless to say Worcester Wreath Co. is by far the largest donor to the Wreaths Across America project and they are dedicated to this project for many years to come. It is a vision that we will one day honor every veterans' memory for the holidays, as a way to show our gratitude and appreciation for the sacrifices made to preserve our freedoms.

Wreaths Across America was formed as a non-profit organization (501-C3 status - EIN 20-8362270) in 2007, in direct response to the many letters and requests from supporters all around the Country, about how they too could get involved and bring the Arlington Wreath Project experience to their local communities.

We invite you to come and participate in this year's wreath-laying ceremonies on Saturday, December 15th, at 12:00 noon EST. Click here for a complete list of participating locations.


Posted by: Sherry || 12/08/2007 14:45 || Comments || Link || E-Mail|| [6462 views] Top|| File under:
Earthquake strikes near Bali climate conference
Tech Update from Rantburg Division 666 (Diabolical Devices and Satanic Engines): Our reverse-engineered Illudium Q-36 Explosive Space Modulator has passed its initial .1% power test.


A 5.9-magnitude earthquake struck off Bali on Friday, where it rocked a conference centre hosting more than 10,000 delegates for a key UN climate change summit.


Gee, I sure hope none of those private jets were damaged. I want to save those for the reverse engineered gamma-ray laser tests.


The earthquake struck southwest of the Bali resort of Nusa Dua, where nations are meeting to craft a strategy to combat climate change, Indonesia's Meteorology and Geophysics Agency said.


Whole nations packed into such a small area? I forgot, only elites count.


The quake struck at a depth of 10 kilometres and there was no threat of a tsunami, the agency said.


We wouldn't want to infringe on Halliburton's patents.


"This is too small to trigger a tsunami," geophysics agency head Suharjono told AFP, adding that the agency had received no reports of damage.

The quake did not cause any panic at the conference centre. Many delegates had already left for the day, while those who remained said they either did not feel anything or just a slight rumbling.


Deep into the Napoleon brandy, were they?


"It just felt like the floor was shaking, but I thought it was something that was going on next door. It felt like the feeling of a truck passing by," said Yamil Bonduki, a delegate from the United Nations.


"Just some serfs acting up, I thought, so I ignored it."


"I looked around and nobody said anything," he said.


Maybe it was Chivas Regal.


The Indonesian archipelago sits on the Pacific Ring of Fire, where continental plates meet and cause frequent seismic and volcanic activity.


Well, duh! It would have looked a little suspicious to conduct this test near, say, Ottawa.


Indonesia was the nation worst hit by the earthquake-triggered Asian tsunami in December 2004, which killed some 168,000 people in the country's Aceh province.


That was close. Good thing they were so eager to blame Bush, who wouldn't know a space modulator from an interdimensional quantum cloak.
Posted by: Angique Gonque2974 || 12/08/2007 00:00 || Comments || Link || E-Mail|| [6466 views] Top|| File under:
Plastic cups better for environment than mugs
Although most people think that plastic coffee cups are bad for the environment, a TNO study commissioned by the Disposables Foundation of the Benelux (SDB) now indicates that disposable cups create less of an impact on the environment. The SDB announced this on Friday.

Plastic and paper cups cause less harm to the environment than porcelain or ceramic mugs. Washing the mugs apparently causes more damage to the environment than the production of the disposable cups.

"The results of the comparison clearly indicate that disposable (coffee) cups cause the least damage to the environment," a spokesperson for the SDB said.

Posted by: lotp || 12/08/2007 00:00 || Comments || Link || E-Mail|| [6465 views] Top|| File under:
Who's in the News
32
[untagged]
7
Iraqi Insurgency
3
al-Qaeda in Iraq
3
Global Jihad
3
Govt of Pakistan
3
al-Qaeda
2
Govt of Sudan
2
Govt of Iran
2
Taliban
2
Hezbollah
1
TNSM
1
Hamas
1
Iraqi Baath Party
1
Jamaat-e-Islami
1
Mahdi Army
Bookmark
E-Mail Me
The Classics
The O Club
Rantburg Store
The Bloids
The Never-ending Story
Thugburg
Gulf War I
The Way We Were
Bio
Merry-Go-Blog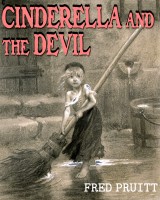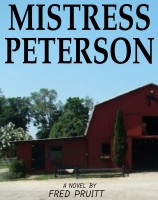 On Sale now!


A multi-volume chronology and reference guide set detailing three years of the Mexican Drug War between 2010 and 2012.

Rantburg.com and borderlandbeat.com correspondent and author Chris Covert presents his first non-fiction work detailing the drug and gang related violence in Mexico.

Chris gives us Mexican press dispatches of drug and gang war violence over three years, presented in a multi volume set intended to chronicle the death, violence and mayhem which has dominated Mexico for six years.
Click here for more information


Meet the Mods
In no particular order...


Steve White
Seafarious
Pappy
lotp
Scooter McGruder
john frum
tu3031
badanov
sherry
ryuge
GolfBravoUSMC
Bright Pebbles
trailing wife
Gloria
Fred
Besoeker
Glenmore
Frank G
3dc
Skidmark
Alaska Paul



Better than the average link...



Rantburg was assembled from recycled algorithms in the United States of America. No trees were destroyed in the production of this weblog. We did hurt some, though. Sorry.
3.223.3.251

Help keep the Burg running! Paypal: