-Short Attention Span Theater-
Hotel Under Construction Collapses
[NOLA] Multiple injuries have been reported after the under-construction Hard Rock Hotel in New Orleans collapsed Saturday morning.Three people were being taken to hospital in unknown condition, according to New Orleans EMS. More patients are possible.

The site is located at the corner of Canal and North Rampart streets.

"It sounded like a - I don't know how to describe it -- like a building coming down," said Matt Worges, who witnessed the collapse from a classroom in the nearby Tidewater Building.


The video at the link is amazing.
Posted by: Spatch Glomorong8156 || 10/12/2019 11:26 || Comments || Link || E-Mail|| [6486 views] Top|| File under:
Portland Firefighters Responded To More Than 1,000 Homeless Camp Fires In Two Years
[Hot Air] PORTLAND, OR (KPTV) - Portland Fire & Rescue responds to fires that start in homeless encampments often several times a day, according to data.

Some have been as small as a garbage fire, while others have been known to spread to homes.

"Our call volume does have an increased amount that is a result of some kind of emergency or crisis that is happening with our homeless population," said Lt. Rich Chatman with Portland Fire & Rescue. "That's a fact of life and we've just really come to understand that this is part of our job now."

The FOX 12 Investigators requested data for fires started in homeless encampments from July 2017 to July 2019.

It showed Portland Fire & Rescue responded to more than 1,000 fires in those two years. It also showed they're usually responding to these fires several times a day.

Take May 29 of this year: Data shows Portland crews responded to 10 fire calls at homeless camps.

"During our summer months, we know that fires we're going to deal with often have to do with how dry the brush or trees are and that's especially concerning to us because those fires that start maybe from a cooking fire or some sorts outdoors that can cause a much larger fire that can affect many more homes," said Chatman. "During the winter months, often times, the fires are people just trying to keep warm and that's something we obviously have compassion to."

Back in July, a homeless camp caught fire near Southeast 96th Avenue and Steele Street. It spread across the street to a home, burning part of the roof.

"Something in the camp exploded," said Joanna Hartvickson.

Hartvickson lives next door to the home that caught fire.

Posted by: Besoeker || 10/12/2019 07:08 || Comments || Link || E-Mail|| [6486 views] Top|| File under:
Oklahoma Yellow Labrador shoots woman in leg
[NY Post] This wasn't puppy love.

An Oklahoma woman was shot in the leg during a car ride ‐ by an excitable puppy that jumped on a loaded gun, according to cops.

Tina Springer, 44, was hit in the left thigh after her driver's yellow Labrador, Molly, jumped on a .22-caliber handgun in a folding center console, according to the Enid News & Eagle.

"I had a dog in there and he stepped on the gun," driver Brent Parks, 79, told a 911 dispatcher. "The dog went stepped on it and it went off."

"The dog shot her?" the surprised-sounding dispatcher asked, to which Parks replied, "Yeah. He stepped on it and it went off."

Parks, who used his belt as a makeshift tourniquet, could be heard telling off his 7-month-old pet. "Well Molly, you're the one who pulled that trigger. Don't give me no s‐t," he "mutt"-ered at one point.
Posted by: Besoeker || 10/12/2019 03:29 || Comments || Link || E-Mail|| [6498 views] Top|| File under:
Texas WWII Veteran Who Asked for 100 Birthday Cards Receives over 100K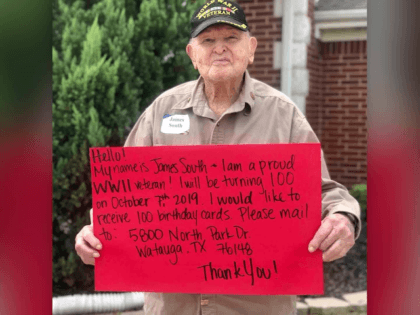 [Breitbart] The birthday surprises have not stopped pouring in for a World War II veteran in Watauga, Texas, who turned 100 years old on Monday.

Veteran James South had no idea the response he would receive when a picture of him holding a sign asking for 100 birthday cards for his birthday was posted online by staff at the Brookdale Senior Living facility a few weeks ago.

"Hello! My name is James South. I am a proud WWII veteran! I will be turning 100 on October 7th, 2019. I would like to receive 100 birthday cards," the sign read.

On Monday, Breitbart News reported that South had received more than 60,000 cards from people as far away as Australia and India.

However, reports said that as of Friday, that number has climbed to over 100,000.

"To go to a store in town and pick out a card and send it to me, that's almost more than I can handle I'll tell ya," the veteran said. "It touches my heart."

South's daughter-in-law, Debbie, said the family has been emotional as they read each of the heartfelt birthday wishes.

"We're just crying everyday because we're just reading all these beautiful cards," she commented.

On Thursday, Alex Rozier, a reporter with WFAA, tweeted photos of South will all the birthday greetings he received.
Posted by: Besoeker || 10/12/2019 00:00 || Comments || Link || E-Mail|| [6470 views] Top|| File under:
Shep Smith, Fox News Anchor, Abruptly Departs From Network
[NYT] Shepard Smith, the chief news anchor of Fox News whose reporting often drew the ire of President Trump, said on Friday that he was leaving the cable news network after 23 years, an abrupt move that left some of his co-workers openly stunned.

"Recently, I asked the company to allow me to leave Fox News," Mr. Smith told viewers at the close of his regular broadcast. "After requesting that I stay, they obliged."

A fixture of Fox News, Mr. Smith joined the network as a correspondent at its start in 1996 and became one of its most visible journalists. He is leaving in the middle of his current contract, a rarity in the cutthroat television business, and he told viewers on Friday that, under his exit agreement, "I won't be reporting elsewhere at least in the near future."

Since Mr. Trump took office, Mr. Smith has stood out at Fox News for his tough coverage of the White House ‐ a stark contrast from the Trump cheerleading often displayed by the network's prime-time and morning-show commentators.

Mr. Smith's reporting has sometimes frustrated Mr. Trump, who has repeatedly taunted the anchor on Twitter, referring to him as Fox's "lowest rated anchor." On Thursday, Mr. Trump cited Mr. Smith by name, along with the former Democratic strategist Donna Brazile, arguing that Fox News was "much different than it used to be in the good old days."


Posted by: Besoeker || 10/12/2019 00:00 || Comments || Link || E-Mail|| [6481 views] Top|| File under:
-Signs, Portents, and the Weather-
Electric-Car Owners Shocked by California Blackouts
[PJ] Everybody knows that electric cars are going to save the planet from climate change or something. Unlike regular cars, which run on gasoline and make all the polar bears cry as they sink into the sea, electric cars are powered by... um... magic? Mjölnir, the hammer of Thor? That must be how it works, or else owning an electric car would impose some sort of cost to the environment. And that can't be, or those guys wouldn't be so insufferably smug.

You know those intentional blackouts they're having in California to reduce the risk of wildfires? Well, guess what happens now?

So if you're a Californian who bought an electric car to save the environment, now you can't drive it because of the risk to the environment. If you really cared about the planet, you wouldn't go anywhere or do anything or participate in 21st-century life at all.

Whatever happened to those algae-powered cars we were supposed to have by now? Remember Obama talking about those? Imagine driving around smelling like a dirty fish tank. Smirking at all those planet-killing dummies in their outdated electric cars. That's the thing about being woke. There's always somebody woker.
Posted by: Besoeker || 10/12/2019 03:14 || Comments || Link || E-Mail|| [6486 views] Top|| File under:
Africa Subsaharan
South African High Court orders Zuma to be tried
[Iraq Sun] Former President of South Africa Jacob Zuma will appear in court on Tuesday on charges of corruption, fraud, money laundering and racketeering.

The case against Zuma will proceed after the South African High Court on Friday dismissed applications by the former leader to have all charges against him quashed.

The controversial president, who served from 2009 until his resignation in February 2018, is facing charges that he took billions of rands in bribes whilst negotiating arms sales. An application by French weapons-manufacturer Thales South Africa was also dismissed by the High Court.

Despite the decision, Zuma was all smiles on Friday as he joked with his lawyers.

The decision though by a full bench of the Pietermaritzburg High Court will now allow his prosecution, and that of Thales, to proceed.

Judges Bhekisisa Mnguni, Thoba Poyo-Dlwati and Esten Steyn reportedly took only a few minutes to hand down their judgement.

Justice Mnguni, who read the judgement, said all three of Zuma's applications were dismissed with costs.

"The applications brought by Jacob Gedleyihlekisa Zuma for the permanent stay are dismissed with costs," the judgement said.

Zuma and his legal entourage will now return to the same courtroom for the opening of his case on Tuesday.

A little over a month after Zuma agreed to step aside in February 2018, it was confirmed by the director of public prosecutions that he would face eighteen charges of corruption, including more than 700 counts of fraud and money laundering.


Posted by: Fred || 10/12/2019 00:00 || Comments || Link || E-Mail|| [6493 views] Top|| File under:
Arabia
US to deploy additional troops, aircraft, missile systems to Saudi Arabia
[The Hill] The Pentagon announced Friday that the U.S. will deploy additional personnel, aircraft and missile defense equipment to Saudi Arabia in response to Iranian aggression.

The U.S. will send two fighter squadrons, one Air Expeditionary Wing, two Patriot missile system batteries holding missiles and a launcher, and one Terminal High Altitude Area Defense system, chief Pentagon spokesman Jonathan Hoffman said in a statement.

"As we have stated, the United States does not seek conflict with the Iranian regime, but we will retain a robust military capability in the region that is ready to respond to any crisis and will defend U.S. forces and interest in the region," Hoffman said.

Defense Secretary Mark Esper had authorized the deployment last month at the request of U.S. Central Command and informed Saudi Crown Prince Mohammed bin Salman and the country's defense minister of the action earlier Friday.

"Taken together with other deployments this constitutes an additional 3,000 forces that have been extended or authorized within the last month," Hoffman said.
Posted by: Besoeker || 10/12/2019 02:31 || Comments || Link || E-Mail|| [6477 views] Top|| File under:
India-Pakistan
Police arrests two serial killers in Sargodha
[DAILYTIMES.PK] Police in Sargodha on Friday arrested two serial killers involved in the gruesome murder of at least seven taxi drivers, according to officials privy to the developments.

District Police Officer Sargodha told the media at a

presser

that the suspects used to book taxi rides and afterward give drugs to the taxi driver.

The suspects then proceeded to kidnap the driver and kill him, before disposing off the body at an unidentified location on a nearby lake. The taxi cars were sold off in Khyber-Pakhtunkhwa later.


Posted by: Fred || 10/12/2019 00:00 || Comments || Link || E-Mail|| [6469 views] Top|| File under:
International-UN-NGOs
UN axes cocktail soirees amid $1.3B cash crisis
[AA.TR] Faced with its worst cash flow crisis in a decade, the UN will start axing fancy cocktail soirees for ambassadors, an official told

news hound

s Friday.


Oh no! Whatever will the staff do with themselves now?

The UN will also switch off its iconic fountain, elevators and heating beginning Monday in a bid to cut costs.


Uck! Restaurants with only four stars?


Under-Secretary-General for Management Strategy, Policy and Compliance, Catherine Pollard, told

news hound

s of "very dire" cash shortages because of $1.3 billion that member states owe in 2019 dues.

"For the second successive year, we've exhausted all the regular budget liquidity reserves despite several measures we already put in place to try and reduce expenditures and to align them with available cash reserves," said Pollard.

Tightening their belts ever-further, the suites that UN ambassadors use to wine and dine fellow diplomats, politicians and policy wonks will be closed for cocktail parties and other events scheduled after 6 p.m. (1000GMT), said Pollard.


Oh, the humanity!


"I know that many of you also go to some of the functions that are hosted by delegations in the delegates' rooms. Those functions are going to be curtailed from next Monday," Pollard said.

"We had several events that were in the pipeline, and we are currently reviewing all of those with the sponsors to see how we can accommodate them."

UN staff will only be allowed "essential travel," said Pollard. There will be cutbacks on interpreters, translators and the issuing of documents, while radiators and escalators will be switched off to save power.

Even the landmark fountain in the plaza in front of the UN secretariat building, a 100-foot (30-meter) illuminated circular pool that was donated by American schoolchildren in 1952 , will be switched off in the economy drive.

Although most of the UN's 193 members have paid their 2019 dues in full, more than 60 countries still owe cash, including its top contributor, the United States. This has left the world body with a 30 percent hole in its budget.


Posted by: Fred || 10/12/2019 00:00 || Comments || Link || E-Mail|| [6479 views] Top|| File under:
Home Front: Culture Wars
Judge: Trump immigration rule 'repugnant to American Dream', blocks it
[Jerusalem Post] A US federal judge in New York on Friday temporarily blocked a Trump administration rule that would deny visas to aspiring immigrants deemed likely to require government assistance, calling it "repugnant to the American Dream."

The rule, finalized in August, vastly expanded who could be considered a possible "public charge," applying to anyone who might in the future need temporary government help such as food stamps, Medicaid or housing aid. Previously it applied to immigrants who would be primarily dependent on the government.
The Department of Homeland Security (DHS) rule, if ultimately allowed to take effect, could be the most drastic of the Trump administration's hardline anti-immigration policies, experts have said.

Pushed by Trump's leading aide on immigration, Stephen Miller, the rule was due to go into effect on Tuesday.

But Judge George Daniels of the Southern District of New York blocked the rule nationwide, finding that the government failed to provide "any reasonable explanation" for why the definition of "public charge" needed to be changed.


Appointed by Bill Clinton


It will now be on hold while the underlying legal challenges proceed.

Posted by: g(r)omgoru || 10/12/2019 07:40 || Comments || Link || E-Mail|| [6497 views] Top|| File under:
Jane Fonda arrested protesting climate change in Washington
NEW YORK (AP) ‐ Jane Fonda was arrested at the U.S. Capitol on Friday while peacefully protesting climate change.

The actress and activist was handcuffed on the east side steps and escorted into a police vehicle. Video of the arrest circulated online.

Fonda was one of 16 people arrested for unlawfully protesting and was charged with "crowding, obstructing or incommoding." She was released hours later.

On Thursday, the actress vowed to join Friday protests at the Capitol "inspired and emboldened by the incredible movement our youth have created."

Ira Arlook, of the group Fire Drill Fridays, confirmed that Fonda was arrested at the inaugural demonstration Friday.

Before her arrest, Fonda in a speech called climate change "a collective crisis that demands collective action now."
Posted by: Besoeker || 10/12/2019 02:59 || Comments || Link || E-Mail|| [6479 views] Top|| File under:
Who's in the News
30
[untagged]
14
Sublime Porte
4
Islamic State
4
Govt of Pakistan
3
Govt of Iraq
3
Moslem Colonists
2
Hamas
1
Boko Haram (ISIS)
1
Arab Spring
1
Houthis
1
Antifa
1
TTP
1
al-Qaeda in North Africa
1
Govt of Iran
1
Commies
Bookmark
E-Mail Me
The Classics
The O Club
Rantburg Store
The Bloids
The Never-ending Story
Thugburg
Gulf War I
The Way We Were
Bio
Merry-Go-Blog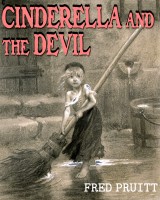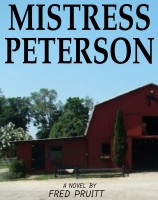 On Sale now!


A multi-volume chronology and reference guide set detailing three years of the Mexican Drug War between 2010 and 2012.

Rantburg.com and borderlandbeat.com correspondent and author Chris Covert presents his first non-fiction work detailing the drug and gang related violence in Mexico.

Chris gives us Mexican press dispatches of drug and gang war violence over three years, presented in a multi volume set intended to chronicle the death, violence and mayhem which has dominated Mexico for six years.
Click here for more information


Meet the Mods
In no particular order...


Steve White
Seafarious
Pappy
lotp
Scooter McGruder
john frum
tu3031
badanov
sherry
ryuge
GolfBravoUSMC
Bright Pebbles
trailing wife
Gloria
Fred
Besoeker
Glenmore
Frank G
3dc
Skidmark
Alaska Paul



Better than the average link...



Rantburg was assembled from recycled algorithms in the United States of America. No trees were destroyed in the production of this weblog. We did hurt some, though. Sorry.
3.87.250.158

Help keep the Burg running! Paypal: